Brisbane is located in the county of Stanley and is the largest city followed by Ipswich with bounds in part of the county. The City derives from cities, towns and shires that merged in 1925. The main offices and Central Library of the Council are at 266 George Street, also known as Brisbane Square. Brisbane City Hall houses the Council Chamber, the offices of the Lord Mayor and Deputy Mayor, meeting and reception rooms and the Museum of Brisbane.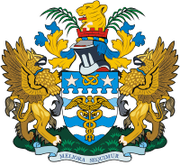 The motto of the City of Brisbane is Meliora sequimur, Latin for We aim for better things. The Council's corporate slogan is Dedicated to a better Brisbane. The City's colours are blue and gold. Its corporate logo was introduced in 1982 in preparation for the Commonwealth Games hosted in Brisbane that year. It features a stylised version of Brisbane's City Hall which opened in 1930. The City's floral emblem is the (exotic) poinsettia and its faunal emblem is the graceful tree frog.
Brisbane City Council aims to be carbon neutral by 2026 via the reduction of emissions and carbon offsetting.